If you're investing in a motorboat, yacht, dinghy or RIB, you have an exciting decision ahead of you – what to name your beautiful new vessel? 
You've got many adventurous times ahead of you, but before you slap on the first name that comes to mind, here are a few tips on choosing the best boat name for you. Try and be a bit original so that you're not one of several identically named boats in the marina. Aint Misbehavin, Liberty, Lazy Daze have been done to death!
Marine lore says that it's not bad luck to re-name a boat, so whether it's brand new or

second hand

it's a good idea to have a new name for your boat. It's certainly fun to have a boat naming ceremony – typically you open a bottle of bubbly, splash some on your boat's hull and have a hearty toast in front of your friends and family – or at least one witness.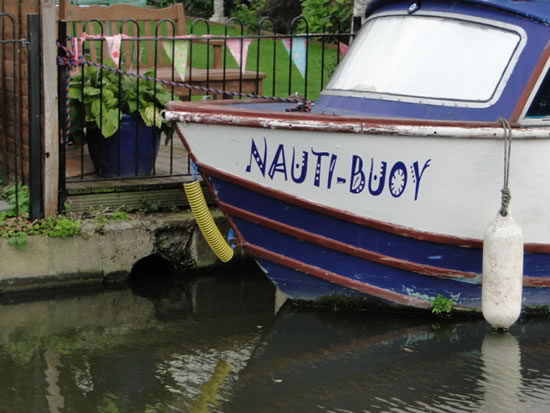 Remember that the name will be used in several important ways – it's not just there to make passers by smile or to impress your mates. You'll be repeating it often over VHS radio to the harbour master and fellow sailors, so anything too saucy or silly may get annoying to you and others over time. 
Think about keeping the name relatively short too. In an emergency every second counts when you're contacting the Coast Guard and calling for help.
Many in the sailing community feel you should try to limit a boat name to one word for the sake of brevity and safety when you're using communication channels. If you need ideas about products for getting your carefully chosen name onto your boat, these websites offer plenty of options - vinyl letting, stencils etc - and advice: 
Motorboat Favourites 
Cloud Nine 

River Pearl 

Blue Moon 

Serendipity 

Sapphire 

Misty 

Rosie 

Kingfisher 

Sundowner 

Endeavour 
Fast Forward 

Bandit 

White Shark 

Mad Max 

Thriller 

Making Waves 

Thunderbird

Velocity 

Ocean Runner 

Need for Speed
Wind Dancer

Solitude

Odyssey

Sea Mist 

Diamond 

Whisper 

Sandpiper 

Dragonfly

Freedom 

Pegasus 
Bragging Rights

Forget Paris

Dun Workin'

My Pride and Toy

Got My Way 

Blew Too Much 

Mental Pause

Lazy Daze 

Don't Tell the Wife 

Bottoms Up 
JoKen Around

The Rod Father

Flip Her 

Happy Berth Day

Blew Aweigh 

Mullet Over 

Buoy oh Buoy

Knot So Fast

Y-Knot?

Sexual Heeling 
Buccaneers Slave 

The Black Pearl 

Hangman's Lust 

Ocean Serpent 

Bay Stalker 

Wild Waves 

Swash Buckler 

Captain's Fear 

Davy Jones 

Devil's Doom 
I'm Breakin Wind

Wet Dreamin' 

Sunuva Beach 

Master Baiter 

Blow Me

Floating Seamen

Tax Seavation 

Seanile 

The Salty Swallow 

Titanic II