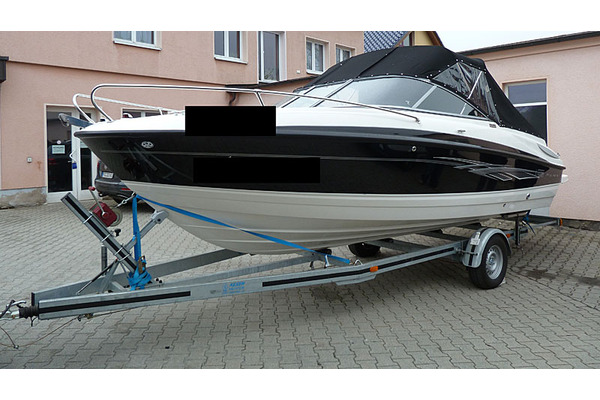 Marine leisure experts often stress the importance of buying a good quality boat trailer alongside a boat purchase. After all, the trailer will be central to your plans for boat transportation and possibly storage.
Before investing in a boat trailer, a boat owner needs to consider three key factors when making their selection, namely boat length, boat weight, and boat waterline-width.
What is your boat length?
A boat trailer typically measures about two feet longer than the boat it will be carrying so bear this in mind when you're viewing new and used trailers. You don't need to include the extended swim platform in the calculation. However if a boat has a bow pulpit, its length should be included in the calculations.
What is your boat weight?
A boat's wet weight is what we're talking about here. Some manufacturers do not include wet weight in their published material, so boaters should find out how much their boat weighs fully loaded with fuel (8.5 pounds per gallon), water (6.5 pounds per gallon), batteries, engine, and everything else the boat will contain while being carried by a boat trailer. If the boat's wet weight is greater than 3,500 pounds, the boater should strongly consider purchasing a tandem-axle boat trailer. This type of trailer will distribute the weight of the boat more safely than single-axle boat trailers would.
Also consider any additional items the boat may be carrying beyond what is required for its operation, such as tools, spare parts, food, cooking supplies and luggage. 
What is your boat waterline-width
Trailer bunks provide larger areas of hull support, but rollers make boat loading and offloading easier, especially if the ramp has only a gentle slope. Most trailer bunks are made of wood and covered in carpet, while others are made of plastic and allow boats to slide on and off the boat trailer easier. Remember that if you're going to be launching mostly into salt water,  you'll need a trailer designed specifically for salt water.
Boat trailer styles
There two primary types of boat trailers: bunk-style and roller-style. Each type has its own advantages and disadvantages, depending on a boater's particular needs.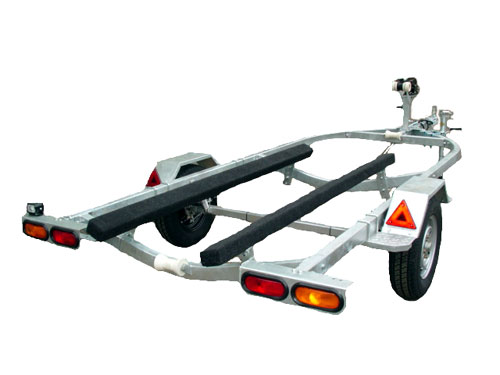 Bunk trailers
Bunk trailers tend to be more affordable than roller-style boat trailers, because they have a more basic structure and fewer parts to maintain. They also permit boaters to drive their boats onto the trailer and do not require a very powerful winch to operate. 
A possible downside is that bunk-style trailers must be submerged deeper into the water than roller-style trailers.
This means that brakes, hubs, springs, running gear, and other components of the bunk-style trailer are more vulnerable to damage, especially from salt water, than are their roller-style counterparts. It also means that boaters must launch in lower tide when using bunk-style trailers. 
Bunk-style trailers also use Keel-type rollers to centre and support the boat on the trailer which can lead to the boat being unevenly supported. There can be a risk of pressure points that can damage the boat, or cause its paint to get scraped by the Keel friction-style rollers.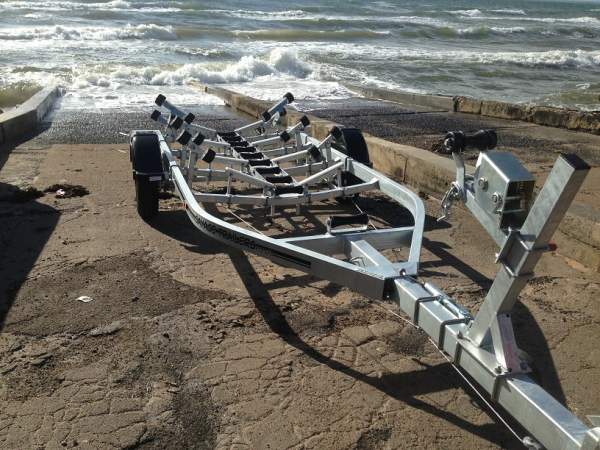 Roller-style trailers tend to be more expensive and can be relatively costly to maintain. They support the weight of a boat at numerous points, and the roller design reduces friction. The roller features and multiple supports also protect the boat from damage when launching, retrieving, or transporting the boat. 
With a roller-style trailer boaters can launch or retrieve a boat at any stage of tide. They also do not require boaters to submerge the axles of their boat trailer. However, they usually do not allow boaters to drive their boats onto the trailer. This also means that roller-style trailers tend to require heavy duty winches to accept or retrieve boats.
Some trailers are equipped with tail- lights and directional (indicator) lights, which are waterproof and corrosion resistant. Others come equipped with low quality lights or no lights at all. So you'll need to consider what you require and whether you need to add better lights to a trailer that isn't equipped with them. If you are adding lights, remember they will need to be fully sealed and waterproof. 
Rust protection 
Boat trailer manufacturers go to great lengths to weatherize and protect their products from rust, but if you are buying a second hand model you'll want to check the frame's condition in this respect. If you are in doubt, it is well worth having it rust coated. 
Spare tyre 
It's strongly recommended that you get a spare tyre or two for your boat trailer, particularly if you're hauling your boat long distances.