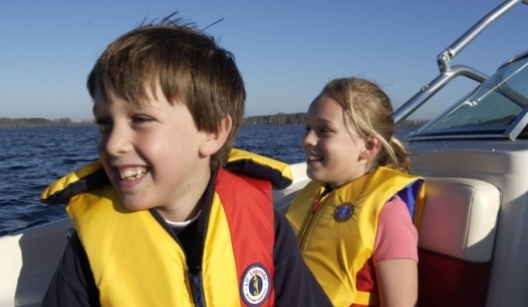 Getting involved in boating and watersports will give you immense pleasure, and these sports are considered very safe to take part in. They're healthy pursuits, but you must be aware that the water and the weather together create an ever-changing environment - tides, wind direction, water depth, currents - these can work against you. With this in mind, it's vital to look after your safety and anyone on the water with you.
Lifejackets 
Lifejackets are one of the most essential pieces of equipment to have when you're out on the water. According to the RNLI you must have enough lifejackets on board, which means having lifejackets to suit all shapes and sizes including children and pets.
A Lifejacket does its job if the wearer is unconscious or unable to help themselves and is almost always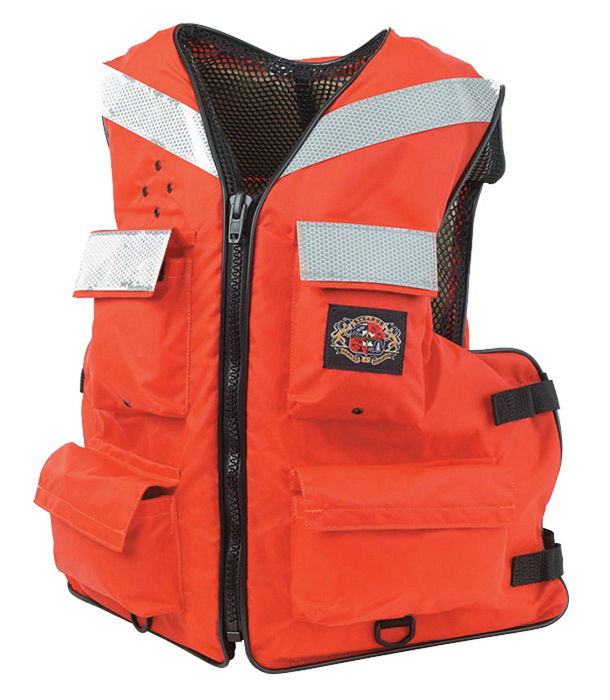 the preferred option for sailing coastal waters and offshore. The type of lifejacket worn will be determined by the conditions expected, and the type of clothing worn and usually provide at least 150 Newtons. A level 150 or larger lifejacket is designed to turn an unconscious/conscious person face up when in the water. A child's lifejacket must fit -  don't be tempted to buy too large as it would be easy to slip out. The jacket should not lift more than 2.5cm above the child's shoulders once fitted and adjusted. 
On a boat it is the skipper's responsibility to show the crew where lifejackets are stored, how to wear and secure them and when and how to operate them. The RNLI recommends that when you use your tender and your boat everyone wears a buoyancy aid or a lifejacket.
Lifejackets can last you several years, but they do need to be serviced at least every 6 months. Here are some tips on how to care for them: 
•
Inflate by hand pump for 24hrs to ensure hold pressure & to check any leaks or damage.
•
Carry out a visual check for wear and tear
•
On CO2 gas inflatable jackets - check gas bottle is full and fitted correctly with no signs of corrosion
•
After saltwater use - wipe down with fresh water and allow to dry fully before repacking
•
When not in use - store in dry, well-aired area. Out of season, keep opened up and partially inflated with a pump (to remove folds) and store on a (non-metal) coat hanger
A Buoyancy Aid is literally an 'aid to buoyancy'. This means the wearer should either be able to swim back to the shore or swim enough to get themselves back to a boat. For this reason buoyancy aids are usually worn in sheltered waters where the wearer is expected to go into the water - ideal for wind surfers, kayakers and dinghy sailors. 
Buoyancy aids should also be checked regularly for damage, and be stored in a dry place when not worn, to ensure there's no corrosion. 
Other safety equipment you will need: 
Communication - VHF Radio
In coastal waters, a VHF radio set allows you to make immediate contact with the coastguard and/or alerting other vessels if there is an emergency.
•
Must know how to operate
•
Check batteries and always carry spares
•
Check it works before leaving by doing a radio check with a marina, harbour master or coastguard.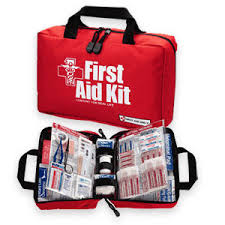 It is advisable to have good knowledge of first aid, and to carry a well stocked First Aid Kit that is appropriate for the boating activities that you do. Think about the area you are boating in, how far or how long will it take medical help to arrive, how many crew on board, the first aid skills of you and your crew, and the type of activities you do. 
A marine First Aid kit will typically include: 
Sterile wipes
Assorted Plasters
Safety Pins
Eye Bandage
Sterile Eye/Wound Wash
Large Adhesive Wound Dressing
Burn Aid Gel
Quickfix Finger Bandage
Resuscitation Aid 
Flares
Flares - which indicate that a boat and sailors are in distress - are another essential part of marine safety equipment. They can also draw attention to your position when rescue services are coming to your aid. Firing mechanisms vary so read the instructions printed on sides.
Remember also that it is illegal to fire a distress flare when not in distress.
Distress flares obviously need to be handled with care and kept in a safe spot at all times to prevent fires and other accidents. It goes without saying the flares need to be kept away from children. Flares also need to be periodically replaced as they pass their expiry date. 
Different types to consider
•
Distress flares - signals for help in the event of an emergency or warns other boats of your presence.
•
Red distress flares - used in the event of an emergency where assistance is required. Predominantly used at night when more visible.
•
Orange distress flares - same meaning as red but are designed to be used in daylight as they are easier to see than red flares due to the clouds of orange smoke that are produced. 
•
White flares - Are to be used when the risk of collision is imminent and to warn other ships of your presence.
•
Parachute flares - flares that deploy small parachutes when fired into the air.
•
Hanheld distress flares are designed to be used on the deck of a ship when the coastline, an aircraft or another boat would be able to see the flare and provide assistance.
•
Flare guns are used to shoot distress flares higher into the air, to increase the chances of them being seen from further away.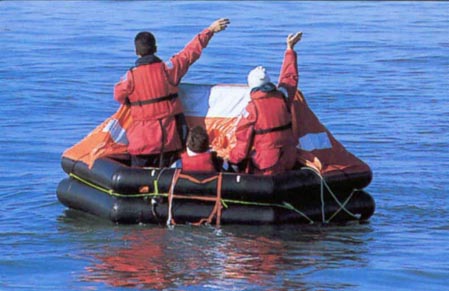 This piece of safety equipment is essential for an offshore or coastal passage and should be stowed in a position ready for immediate launching.
- Be familiar with how it works and equipment within it.
- Remember that being in a liferaft can make people feel cold and seasick. To help cope with this you can get liferaft safety packs.
Every crew member should know when and how to use Fire extinguishers and fire blankets. These items  must be checked and maintained in line with manufacturers' recommendations.