2014 Nanjing Youth Olympics – Results
The sailing events at the Nanjing 2014 Summer Youth Olympic Games came to an end this weekend at Jinniu Lake Sailing Venue following a week of top quality racing from 100 young male and female competitors from 62 nations.
Four gold medals were up for grabs in men's and women's One Person Dinghy and Windsurfing classes. The conditions varied across the days, creating a few frustrating races with a lack of breeze.
Singapore took the double gold in the Boy's and Girl's Byte CII thanks to Bernie Chin and Samantha Yom.
Gold medals in the Boy's and Girl's Techno 293 honors went to Francisco Saubidet Birkner of Argentina and Linli Wu of China.
View the full final results below.
Boy's Byte
| | | |
| --- | --- | --- |
| 1 | SIN | Bernie Chin |
| 2 | POR | Rodolfo Pires |
| 3 | HUN | Jonatan Vadnai |
| 4 | USA | Henry Marshall |
| 5 | THA | Apiwat Sringam |
| 6 | BRA | Pedro Luiz Marcondes Correa |
| 7 | CRO | Pavle ZIVANOVIC |
| 8 | MAS | Asri Azman |
| 9 | FRA | Romén Richard |
| 10 | NZL | Alastair Gifford |
| 11 | CAN | Justin Vittecoq |
| 12 | CHI | Clemente Seguel |
| 13 | AUS | Thomas Cunich |
| 14 | ISV | Scott McKenzie |
| 15 | PER | Angello Giuria Farias |
| 16 | SWE | Arvid Nordquist |
| 17 | CAY | Pablo Bertran |
| 18 | ITA | Vittorio Gallinaro |
| 19 | INA | Ahmad Zainuddin |
| 20 | LCA | luc chevrier |
| 21 | NED | Scipio Houtman |
| 22 | IVB | Sam Morrell |
| 23 | BAH | Paul de Souza |
| 24 | ANT | Rhone Kirby |
| 25 | RSA | Calvin Gibbs |
| 26 | ALG | AMINE GUEDMIN |
| 27 | GRE | Georgios Papadopoulos-Kouklakis |
| 28 | UAE | hamad al hamadi |
| 29 | COK | Joshua Ioane |
| 30 | PNG | Teariki NUMA |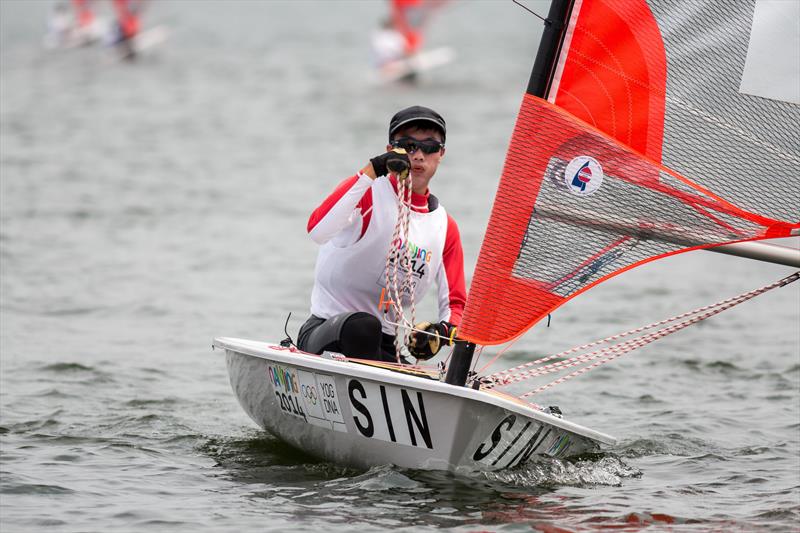 Girl's Byte
| | | |
| --- | --- | --- |
| 1 | SIN | Samantha JingYi Yom |
| 2 | NED | Odile Van Aanholt |
| 3 | PER | Jarian Brandes |
| 4 | UKR | Kateryna Gumenko |
| 5 | NOR | Caroline Sofia Rosmo |
| 6 | MAS | Nur Shazrin Mohamad Latif |
| 7 | DOM | Celeste Lugtmeijer |
| 8 | ITA | Carolina Albano |
| 9 | URU | Dolores Moreira Fraschini |
| 10 | BER | Cecilia Wollmann |
| 11 | HUN | Mária Érdi |
| 12 | FIN | Alexandra Dahlberg |
| 13 | MEX | PAULA PELAYO |
| 14 | ECU | Romina De iulio |
| 15 | FRA | Louise Cervera |
| 16 | ISV | Paige Clarke |
| 17 | BRA | Natascha Böddener |
| 18 | GBR | Hanna Brant |
| 19 | THA | Nichaporn Panmuean |
| 20 | BUL | Viktoriya Hinkovska |
| 21 | POR | Mafalda Pires de Lima |
| 22 | CAY | Florence Allan |
| 23 | CRO | Karla Savar |
| 24 | AUS | Elyse Ainsworth |
| 25 | EGY | Kholoud Mansy |
| 26 | CHI | Kelly Miche Gonzalez Dreyer |
| 27 | INA | Kirana Wardojo |
| 28 | TTO | Abigail Affoo |
| 29 | ALG | Nouha El Alia Akil |
| 30 | RSA | Megan Robertson |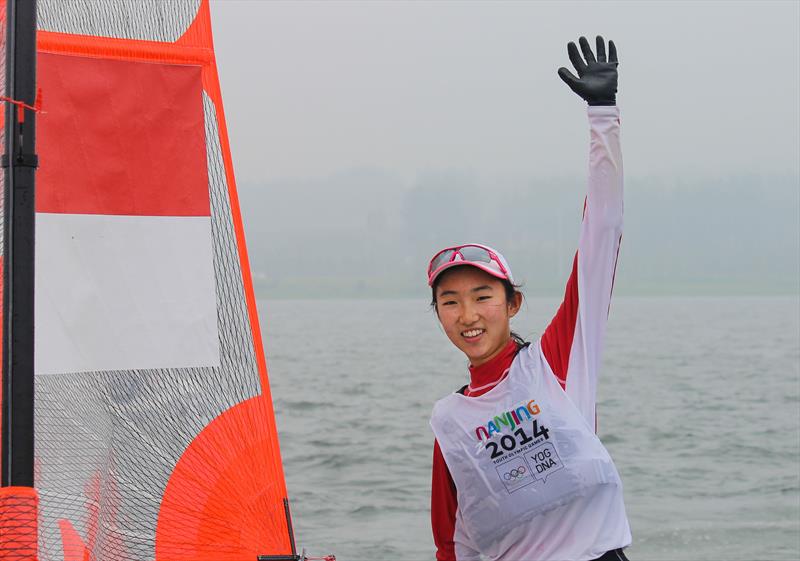 Boy's Techno 293
| | | |
| --- | --- | --- |
| 1 | ARG | Francisco Saubidet Birkner |
| 2 | RUS | Maxim Tokarev |
| 3 | NED | Lars van Someren |
| 4 | FRA | Tom MONNET |
| 5 | ISR | yoav omer |
| 6 | NZL | Finn Croft |
| 7 | JPN | Kensel Ikeda |
| 8 | HKG | Tsz Kit Chan |
| 9 | ITA | Ruggero Lo Mauro |
| 10 | SLO | toni Vrscaj |
| 11 | THA | Thanatip Suebyubon |
| 12 | BRA | Daniel Pereira |
| 13 | MYA | Set Naing Aung Aung |
| 14 | ARU | Mack van den Eerenbeemt |
| 15 | TPE | Ting Yu Wang |
| 16 | USA | Maximo Nores |
| 17 | TUN | Safouane Mami |
| 18 | VEN | Manu De La Rosa Hernandez |
| 19 | PUR | Lucas Miranda |
| 20 | SVK | Martin Beránek |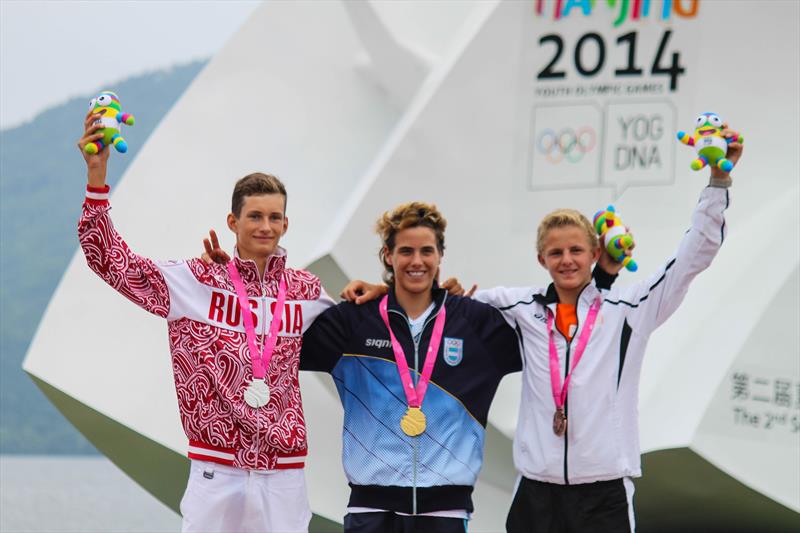 Girl's Techno 293
| | | |
| --- | --- | --- |
| 1 | CHN | Linli Wu |
| 2 | RUS | Mariam Sekhposyan |
| 3 | FRA | Lucie Pianazza |
| 4 | NED | |
| 5 | THA | Duangkamon Phongern |
| 6 | HKG | SANDY CHOI WING CHI |
| 7 | JPN | Rina Niijima |
| 8 | ISR | Noy DRIHAN |
| 9 | PER | Maria Belen Bazo |
| 10 | SIN | Sue Ying Lim |
| 11 | ITA | Giulia Alagna |
| 12 | LAT | Ketija Birzule |
| 13 | POL | Magdalena Majewska |
| 14 | ESP | MARIA FATOU LOSADA |
| 15 | EST | Brigita Villop |
| 16 | NZL | Coral Headey |
| 17 | TUR | Derin Gunenc |
| 18 | MEX | Mariana Aguilar Chavez Peon |
| 19 | ARG | Micaela Rocio Lauret |
| 20 | VEN | Barbara Moya |
| 21 | IND | katya ida coelho |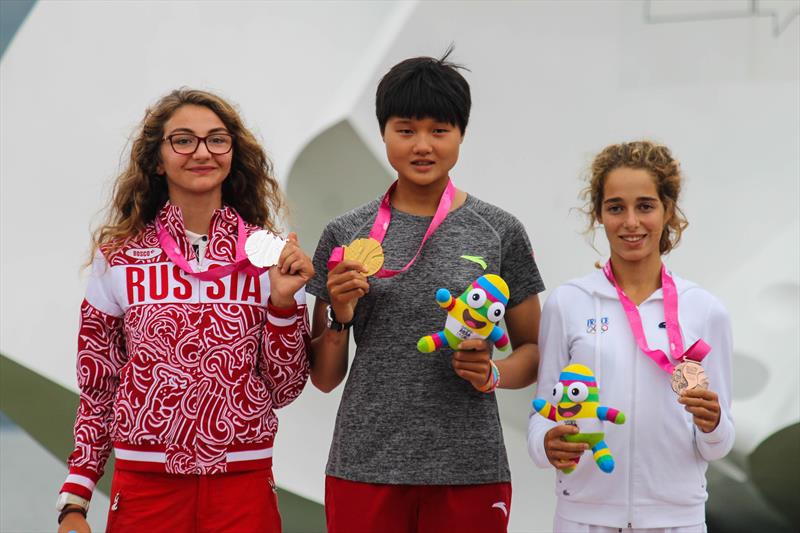 For all the latest news and discussion, follow us on Facebook
Image Credits: ISAF
Article by Jack Bartrop
News